The summer months are all about being outdoors, and as the season approaches, preparations for spending the long days outside are in full swing:  Lawn chairs and tables are being hauled out of garages, dusted off and positioned on patios, backyards or balconies, and hiking backpacks are coming out of storage.
One thing that shouldn't be overlooked is the music, and more to the point, finding the right wireless speaker that can accompany all types of planned summer events and activities, such as picnics, outdoor walks, or evening gatherings in the garden, or just looking up at stars at night.
DXOMARK's Speaker protocol has got you covered for the finding the perfect speaker for the outdoors. That's because DXOMARK is all not just about testing devices  in laboratories but also in real-life situations and various use cases from the kitchen to the bedroom to the backyard. Our common use cases consist of placing and testing speakers in various locations indoors in an actual apartment and outdoors, and under specific circumstances such as listening to a podcast before going to sleep, cooking, watching movies, playing background music for a small gathering  or playing loud music at a party.
So for our summer selection of the best speakers, we looked at the high performers specifically in our outdoor use case. For this use case, we play music in an outdoor space, such as on a balcony or in a garden, with people gathered around the speaker. This use case differs from the others, as sound reflections and reverberations are much reduced outdoors, making for very different acoustics compared to indoor settings. We also use this use case to check if a speaker's performance under battery power differs from when it is plugged into a power outlet.
The speakers we considered for this list had to perform well at loud volume, where hardware and software are usually pushed  to their limits, revealing performance weaknesses that might not be noticeable at lower volumes. A good bass  response was a prerequisite for the low end to be deep, powerful, and precise, and directivity had to be as close as possible to 360°. The ideal outdoor speaker also had to be ergonomic and easy to carry from one place to another, as well as be water and dust resistant. Having a few charging ports for smartphones and other electronics were  welcome features.
Here's our list of the Top 5 Wireless Speakers that we think would be great for those long summer days.
Devialet Mania
For outdoor parties and barbecues
Devialet's speakers are usually designed to stand out for their  indoor premium aesthetics. The French brand's first portable speaker, the Devialet Mania, brings those design principles and its pleasant sound signature to the outdoors, where it is also sure to stand out as a conversation piece.
When it comes to the audio, this stylish round speaker has an array of connectivity options and provides an impressive performance outdoors, earning it our top score for outdoor performance. Its homogeneous and 360° directivity delivers a consistent tonal balance no matter where it is placed, making it ideal for an outdoor party or a barbecue gathering with friends. It delivers quite a loud sound and an impactful bass for its compact size.
The integrated little handle makes this water-resistant (IPX 4) speaker easy to carry around when the party has to move indoors because of a little rain. Oh, and don't let the kids mistake it for a ball!
Ingress Protection (IP) rating: IPX4
Weight: 2.3 kilograms
Outdoor score: 157  (Top Score)
For more performance details in other use cases:  https://www.dxomark.com/speakers/Devialet/Mania
Soundcore Motion X600
For all types of gatherings and occasions
The Soundcore Motion X600 is a simple, but very versatile, compact outdoor speaker that is meant to be configured with all of its diverse options activated. Once that is done, the speaker delivers a strong bass boost as well as immersive spatial audio, which is quite impressive and unexpected for a speaker under $200.
What stands out about this portable speaker is the scope of its wideness, which is comparable to larger and more expensive speakers, and its nearly flawless tonal balance.
The speaker's attractive price point makes the Soundcore X600 a very accessible device, while its adaptability to various use cases and myriad of audio options will please all types of music lovers.
Weight: 2.0 kilograms
Ingress Protection rating: IPX7
Outdoor score: 152
For performance details in other use cases:  https://www.dxomark.com/speakers/Soundcore/Motion-X600
JBL Xtreme 3
For any outdoor dance party
JBL is no stranger when it comes to portable and versatile speakers. The JBL Xtreme 3 is usually known for being the life of many parties, reliably providing the music for indoor and outdoor parties with its rich and lively sound with good dynamics and especially good punch. When it's not used on the party circuit, the Xtreme 3 is also quite performant when used in the kitchen, bathroom or even watching movies thanks to its easy connectivity to a variety of devices.
The Xtreme 3's rugged build  and IP67 dustproof and waterproof rating make it an optimal choice for outdoor use, with the added advantages of having ports that can charge a smartphone, as well as a little built-in bottle opener!
Weight:  2.0 kilograms
Ingress Protection rating: IP67
Outdoor score:  141
For more performance details in other use cases: https://www.dxomark.com/speakers/JBL/Xtreme-3
Teufel Boomster
For small outdoor gatherings
This powerhouse of a speaker provides an overall pleasant tonal balance and precise and powerful dynamics, with good bass and a sharp attack, delivering a sound that is free of artifacts. The Teufel Boomster offers Bluetooth  and jack connectivity options.  It also comes equipped with FM and digital radios as well as an extendable antenna (and a fold-down handle) for an on-the-go retro connectivity to the airwaves.
Because its directional,  front-firing speakers, the Teufel Boomster's ideal outdoor performance is at small and more intimate gatherings where listeners and speakers are not far apart. In this type of scenario, the Teufel Boomster is good for listening to a podcast or to music  at high volume.
Weight: 3.8 kilograms
Ingress Protection rating: IPX5
Outdoor score:  141
For more performance details in other use cases: https://www.dxomark.com/speakers/Teufel/Boomster
Bose Soundlink Flex
For nomads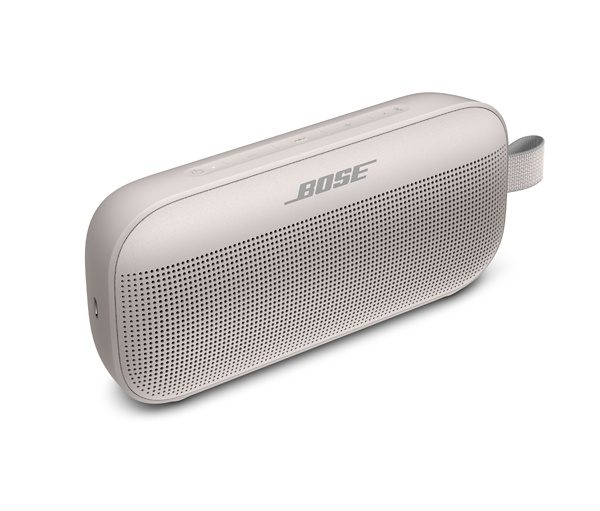 Designed to be used on the go, the  slim and  rugged Bose Soundlink Flex is and ideal option for listening while hiking and exploring. It  even comes with a built-in strap that can attach to a backpack for true portability. The Bose Soundlink Flex's IP67 rating also means that even if it rains during a hike or the speaker is accidentally dropped into the water (it floats!), the music will go on playing.
But no matter what the acoustic environment, the testing showed that the sound is rich, clear and well-balanced, as long as volume isn't at the maximum. But when it comes to sharing music on the go, this speaker can roll with the punches and deliver a clear sound.
The Soundlink Flex's connectivity is limited to Bluetooth.
Weight: 0.6 kilograms
Ingress Protection rating: IP67
Outdoor score: 133
For more performance details in other use cases: https://www.dxomark.com/speakers/Bose/Soundlink-Flex
---
DXOMARK is always testing a wide variety of wireless speakers in different price segments. We focused mainly on outdoor performance in this shortlist, but all the speakers we test undergo evaluations in numerous other use cases and environments. (Read more about the Speaker protocol and the specific use cases tested.) Whatever the summer season holds in store for you, be sure to check out other speakers and devices on dxomark.com to find one that best suits your activities and your audio preferences.
Have a great summer!