Since DXOMARK's sound-quality testing has expanded to wireless speakers a year ago, our engineers have evaluated the playback abilities of a wide range of compact speakers, from entry-level products to high-end models. Here are the best-scoring standalone speakers we've tested so far, sorted by cosy use cases such as relaxing at home, entertaining a small group of friends, or watching a movie.
About this article: Note that this article only takes into account the audio results of the selected wireless speakers. For scoring and analysis in our wireless speaker reviews, DXOMARK engineers perform a variety of objective tests and undertake more than 20 hours of perceptual evaluation under controlled lab conditions. To know more about our use cases and how they're used to evaluate each device's performances,click here.
Top picks
From left: Sonos Five, B&W Formation Wedge and Harman Kardon Citation 200
If what you're looking for is a versatile, standalone speaker comfortable with nearly every use case, ranging from quietly listening to a podcast before going to bed all the way up to partying, here are our top performers across all categories.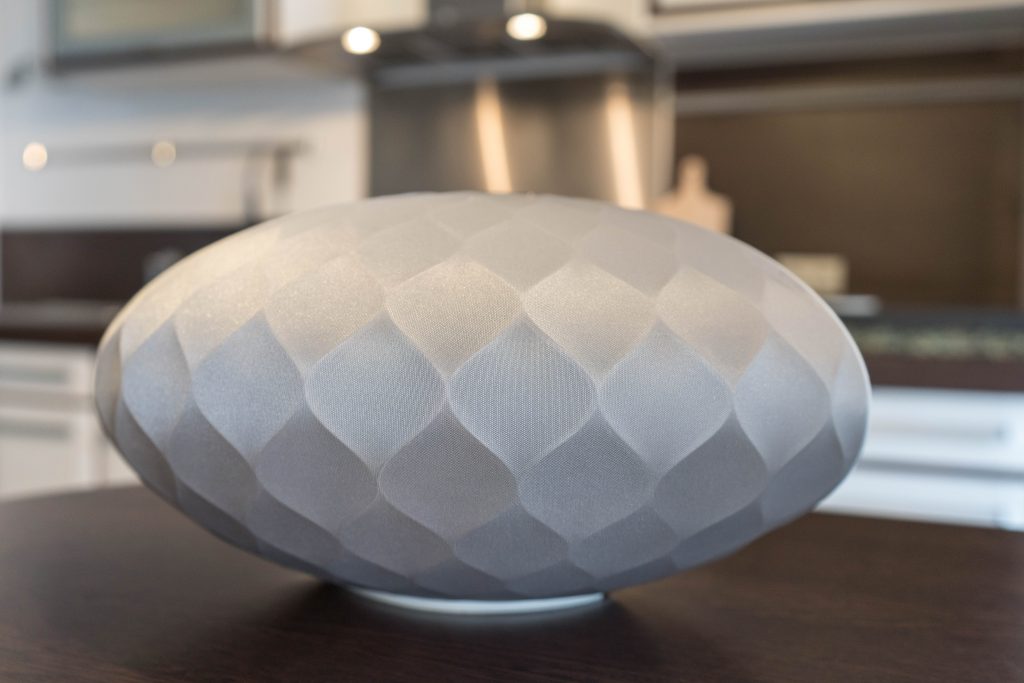 The Bowers & Wilkins Formation Wedge
Part of Bowers &Wilkins's Formation multi-room series and conceived as a successor to the iconic Zeppelin Wireless, the Formation Wedge is the best-scoring speaker of all the devices we've tested to date. It fared remarkably well across every use case thanks to great timbre and dynamic results, sharp attack, precise bass, good loudness, excellent localizability and wideness, as well as an impressive ability to keep sonic artifacts to a minimum. Its powerful, immersive sound is marked by a distinctive signature, with deep low-end extension, and clear high-ends.
It should be noted that the Formation Wedge is exclusively designed for a wireless use (Bluetooth/Wifi/Ethernet), and that its tonal balance has a noticeable propensity to vary according to the listening volume.
The Sonos Five handles the decibels impressively well, in addition to a skillful management of sonic artifacts usually arising at loud volumes. Besides its loud volume capacity and low distortion, the Sonos Five produces a harmonious — albeit rather dark — tonal balance, impactful dynamics (even at quiet volumes!), a wide sound field, precise localizability, and realistic distance rendering for vocal content. This makes it as skilled at partying as it is in snugglier situations like watching movies or listening to soft content before falling asleep.
Thanks to its auto-calibration algorithm and its humidity resistance, the Sonos Five is also fit for bathroom use. Note that it is a front-firing device, and as such, does not evenly distribute sound all around. As for connectivity, the Sonos is a Wi-Fi speaker equipped with a 3.5mm jack input and an ethernet port. While the device is, of course, compatible with the Sonos multiroom ecosystem (that's the whole point), it does not have Bluetooth.
The Harman Kardon Citation 200
Harman Kardon's first portable smart speaker is one of our most consistent performers across the board thanks to notable low- and high-end extension, powerful punch and precise attack, and the absence of temporal artifacts. On top of that, the Citation 200 can be battery operated without noticeable changes except for a slight volume decrease, and benefits from an IPX4 certification, making it safe to use outside, in the kitchen, or in the bathroom. Keep in mind that the Citation 200 does only deliver monophonic sound, and that despite what its near-cylindrical shape might let you think, it is not an omnidirectional speaker.
To know more:
Good atmosphere
From left: AudioPro C10 MKII, Marshall Stanmore II, Klipsch The Three II
Since they're no longer expected to quietly disappear behind a TV set or in a den, wireless speakers have been given a true face-lift by their manufacturers. Here are a few good-looking models that our protocol deemed most suitable for "living room use cases" such as kicking back and relaxing after a long work day, or having music in the background while entertaining a small group of friends.
The Marshall Stanmore II is a good all-around performer, matching or surpassing the scores of much more expensive devices in our database rankings. Out of all three, it is the best suited for listening to music while relaxing at home with its sharp dynamics and pleasant tonal balance, provided that "V signatures" (accentuated bass and treble) are your thing. It is also one of the best when it comes to playing music very loud, which can also come in handy for partying!
Being a good "background music speaker" is not nearly as easy as it sounds. First, the frequency response must be very well balanced at nominal volume: too much treble feels aggressive, too focused midrange impairs the conversation, too little bass and it will not cast a true musical atmosphere. Dynamics also need to be fairly precise and impactful — but not too much! — for the music to remain intelligible, without becoming overpowering. Finally, the distribution of sound shouldn't be too directional, since your friends are probably not all tightly squeezed in the same spot — and if they are, well, they shouldn't be.
With its rich low-end, wider off-axis sound distribution, precise high-ends and solid dynamics at nominal volume, The Three II by Klipsch makes a very good choice for friendly gatherings. However, keep in mind that this speaker doesn't like to be pushed outside of its comfort zone, manifesting very noticeable bass distortions at loud volumes.
The Audio Pro C10 MKII is an interesting compromise between the previous two speakers, better at high volume playback than the Marshall and better at friendly gatherings than the Klipsch. It also produces a much more neutral frequency response, in case you're not a big fan of Marshall's V signature, and has an RCA input in addition to its wireless options (Bluetooth and Wi-Fi — AirPlay 2, Chromecast and Spotify Connect compatible).
Here's a cool little widget allowing you to compare their respective playback sonorities:
Klipsch Klipsch the three II
To know more:
• Full Marshall Stanmore II review
• Full Klipsch The Three II review
• Full Audio Pro C10 MKII review
Movie night
From left: Yamaha MusicCast 50, Naim Mu-so 2nd Generation, Amazon Echo Studio
A good movie speaker needs to fulfill a great number of requirements in the audio area, including great wideness, precise localizability for the sources within the sound field, realistic distance rendering, good left-right balance, impactful and sharp dynamics, natural midrange, clear treble, and strong, clean bass — all in addition to a strong ability to keep sonic artifacts to a minimum from nominal to loud volumes. Finally, even if our protocol focuses mainly on playback quality, it does take into account the variety of inputs and the audio-video latency for the movie sub-score.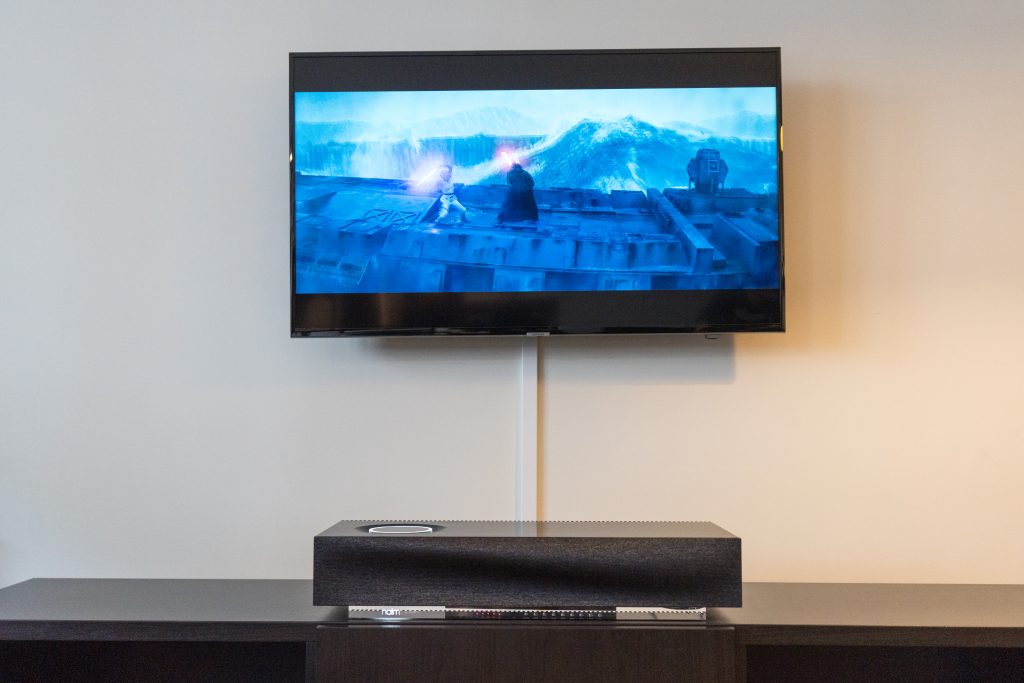 The Naim Mu-so 2nd Generation
The Mu-so 2nd Generation excels at managing sonic artifacts across all volumes — a useful asset since Naim's premium speaker has quite a few decibels under its belt. It also delivers a fairly natural tonal balance, clean bass and good localizability, but what makes it truly great for watching movies is the spectacular wideness it casts.
As for inputs, the second Mu-so is equipped with optical S/PDIF, a 3.5mm jack input, Bluetooth and HDMI ARC with CEC, is Chromecast and Spotify Connect compatible, and comes with a remote handset.
With good volume abilities, sharp attack, and strong punch, the Yamaha MusicCast 50 is also a very interesting (and much, much cheaper) choice in the movie category. It also turns in a consistent tonal balance, great bass precision, and very few artifacts. Wideness is better than with other devices with similar specifications, however, from 3 meters away and up, it feels slightly narrow.
The MusicCast 50 is part of Yamaha's highly prolific multiroom ecosystem, and as such, is not only stereo pair capable, but also 5.1 configurable. It is a Bluetooth and Wi-Fi speaker that's AirPlay 2, Chromecast, and, of course, MusicCast compatible, equipped with optical S/PDIF, a 3.5mm jack and RCA inputs.
If you're rather looking for a budget-minded speaker recommendation, in addition to its general good value, the Amazon Echo Studio turns out to be surprisingly well-adapted for movie playback. It offers good bass depth and impressive wideness considering its fairly compact dimensions, good punch at loud volumes, and a harmonious tonal balance. Of course, the choice of inputs is not as plethoric as with the two previous models, but it still is much more than what the average entry-level speaker provides: besides Bluetooth and Wi-Fi, the Echo Studio features a 3.5 mm jack (analog)/mini-optical (digital) input.
To know more:
• Full Naim Mu-so 2nd Generation review
• Full Yamaha MusicCast 50 review
• Full Amazon Echo Studio review